Eco-friendly techniques
Eco-friendly techniquesFrom the past, present and future

Despite centuries of experience, growing vines in this tiny, arid area that is Faugères requires special attention because of its arduous nature. The appellation's wine growers rapidly realised the importance of sensitive vineyard management showing deference to the surrounding countryside and the soils.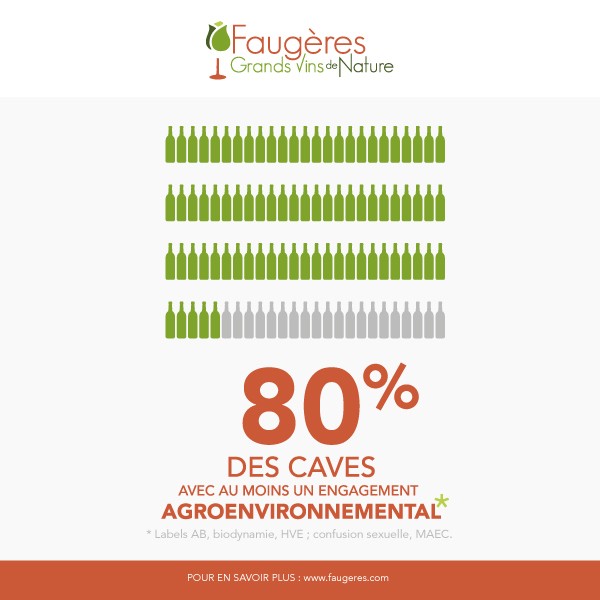 Preserving nature implies:
- Guaranteeing production of superlative quality wines with a recognisable identity;
- Ensuring that the wines offer an authentic rendition of their birthplace, and increasingly so;
- Securing a sustainable future for a unique, and fragile growing environment.
80% of wineries, independent and co-operative, have introduced at least one agro-environmental initiative which goes beyond the requirements of the Faugères appellation production specifications.
Both on an individual and a collective basis, they have their sights squarely set on achieving an ideal by favouring eco-friendly techniques from the past, present and future.
Pour aller plus loin
Bien qu'y étant attestée depuis plusieurs siècles, la culture de la vigne nécessite une attention d'autant plus particulière qu'elle est ardue sur ce petit territoire aride qu'est Faugères. Les vignerons de l'appellation ont compris très tôt l'importance d'un travail délicat et respectueux de la nature environnante et des sols.
Préserver la nature, c'est :
- s'assurer de produire des vins identitaires de grande qualité,
- garantir de donner, à travers leurs vins, une interprétation du terroir toujours plus authentique,
- assurer la pérennité d'un terroir unique et délicat.
83% des caves et domaines mettent en œuvre au moins une démarche agroenvironnementale qui va au delà de celles qu'impose déjà le cahier des charges de l'appellation Faugères.
Individuellement ou collectivement, ils tendent vers un idéal en faisant la part belle aux écopratiques d'hier, d'aujourd'hui et de demain.

Pour aller plus loin
---